Meet the cool teams of Garage48 Georgia 2015 hackathon!
Whatever challenges we have faced this weekend, the halls at Expo Georgia are buzzing with ideas and 11 teams have formed to hack them into prototypes. It has been really cool to mix the local and international to see the differences and similarities of everyone here. This weekend is a mix of everything - cultures, people, ideas, aspects of design, development, business - and that is what makes this extra special. For that we owe a big thanks to our friends from the Georgia's Innovation and Technology Agency, who welcomed us and helped us put this event together. And there's more to come!


But as the teams are giving their protoypes the final touch and perfecting their presentation pitches, we want to introduce them in a little more detail:

1. Copylink

This product helps you to scan real text and find links that open in any new browser. It is a creative solution for any user - no need to sign in and it's for free!

Team: Vakhtang Muskhelishvili, Mirza Jijieshvili, Dato Gulua, Beqa Gordeziani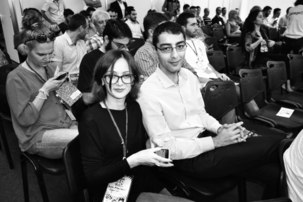 2. iSchool
Open-source school management web based platform. Platform gives opportunity schools and its studnets to improve overall education process via online, web based platform.

Team: Mishka Qavzhinadze, Nika Medvedevi, Sandro Fircxalava, Beka Sanaia, David Marekishvili

3. caucasusartmag.net (ahuahu Foundation)

The idea of caucasusartmag.net is to bring together the South Caucasian culture capital agenda, to restore the cultural dialouge between the countries of the region and make them reachable for the rest of the world. We are building a social network for bringing together South Caucasian cultural representatives and their art and connecting them with everyone who is interested worldwide.

Team: Project manager - Anuka Lomidze, Designer - Koka Vashakidze, Developer - Giorgi Tabatadz, Back end developer - Tato Kutalia
caucasusartmag.com, https://www.facebook.com/caucasusartmag
4. Squareball

Squareball is a game with mathematical questions. It is based on tilt gravity - you have to move the ball to the right answer past obstacles. If you get the correct answer you move up a level. Squareball is fun and educational!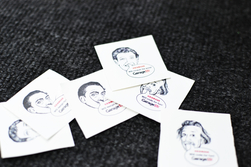 Team: Omari Avazishvili, Nika Papiashvili, Dato Lelashili, Zura Kevlishvili, Luka Nadiradze, Nika Karguzashvili

5. Price prediction
Price prediction analyses data to show the price of a product. Costumer benefits from it because it saves times and makes it easier to find out the price of a item they want to sell or buy.

Team: Irakli Popkhadze, Giorgi Tchelidze, david kakhian, nodari maruashvili

winx.ge
6. EasyShopping

Online shopping for groceries. EasyShopping offers to delivery or pick-up service. EasyShopping makes queues in shops obsolete!

Team:
Levan Ilashvili - BE, Giorgi Gabunia - FE, Lasha Akhvlediani - DE, Nato Gamtsemlidze - PM, Ana Chutlashvili - MA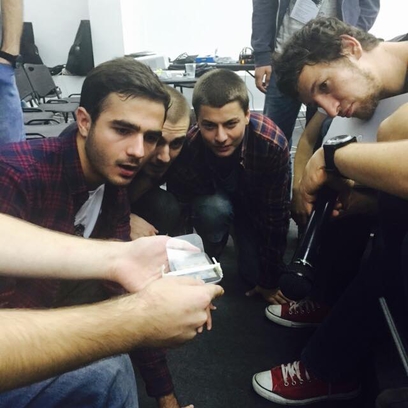 7. Supply Drop

The big problem these days are that people are not socializing in real life. Supply Drop is a game that encourages people to go outside and connect with each other in real life. It is a community based game where supplies are dropped all over the world, every player is provided with a map and they can unlock these chests when actually going to these places.

Team: Nika Otiashvili - PM, Saba Abesadze - Backend, Rati Tsikolia - Designer, Sulkhan Pataridze - Marketeer, Aslam Mkhitariani - Front End, Feride Giashvili - Marketeer

https://www.facebook.com/thebitwire
Making a protoype for 3d holograms for video calls.

9. Rehapp
It's an app that helps people to rehabilitate after injury or trauma. The exercises are like a game, you need to fill goals and it gathers data for the doctor to track your progress.

Team: Oto ALKHANISHVILI, Jemo Mgebrishvili, Lasha Tsatsashvili, Levan Melikishvili, Giorgi Vakhtangishvili

10. Petfinder Blist
App that helps to find your favourite breed of your favourite animal. It ables you to share your experience about animals with others, also it ables you to find people to look after your pet while you're away.

Team: Giorgi Ckhaidze, David Ghlonti, Beka Kereselidze, Nika Kirkitadze

11. Platform for Study Groups
Knowledge aggregator by students for study groups to collect related materials.


Good luck to all the teams with their pitches tonight! Watch us live tonight at 5.30pm GMT+4!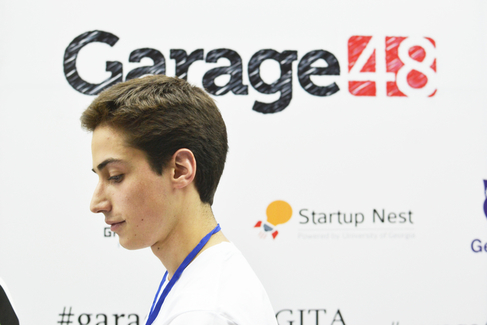 Other ideas pitched on Friday:

12. Zoe - Spotify for movies. Get recommended a movie by the mood you're currently in.
13. 2D Android device game
14. Moods Meter - Music selection based on mood and style of walking using accelerometer
15. Destination - peer-to-peer car-pooling application
16. App to select music according to the rhythm you run
17. Game about Georgian history
18. Educational website to post questions and get answers